Debtbusters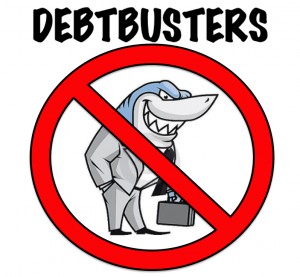 The Debtbusters campaign has three clear goals:
1) To crack down on Payday Loan lenders street by street
2) To promote Credit Unions as a viable alternative
If you would like to be kept up to date with the campaign click here.
If you are looking for Debt Advice click here.
What have we done?
1) Wealth Warnings - We campaigned for Wealth warnings on Payday Loans. If the the government can spend millions on Health warnings - don't drink don't smoke etc… - it should warn us against Payday loan companies with Wealth warnings. The Scottish Government supported a one off wealth warning campaign in the Daily Record thanks to our efforts.
2) Task Force Petition - We've received over 1000 signatures for a petition demandind action from Edinburgh City Council - that petition was hugely successful and led to Edinburgh City Council banning Payday loan adverts from Council computers. They are currently investigating other actions they can take to support our Campaign Objectives.
3) Debt Arrangement Scheme change - Together with Mike Dailly from the Govan Law Centre, we produced a proposal for interest to be frozen when people apply for a Debt Arrangement Scheme. This came into force on the 1st July 2013.
4) Credit Union promotion - We have produced joint leaflets with Castle Credit Union and worked with Capital Credit Union to ensure that their services are advertised to people in Edinburgh via their council tax bills.
Check the Newsblog on the 17th of October for some breaking news on our work with Credit Unions.
5) Branching Out - The initial successes of our Debtbusters campaign in Edinburgh has led to interest in other parts of Scotland, and now further campaigns exist in Glasgow, East Lothian, Fife, the Borders and North Ayrshire.
Debtbusters Interview
Free Leaflets!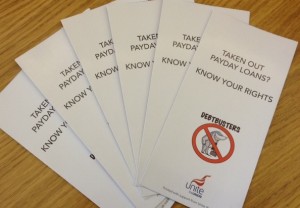 A number of different actions came from that meeting, including the production of this fantastic "Know your Rights" leaflet. A huge thank should go out to Unite the Union for the Help in it's production.
If you'd like some copies of this leaflet, perhaps for your workplace or local community centre, Contact Kez and we'll arrange to have some sent out to you free of charge. Just provide us with a name, postal address and a rough idea of how many you'd like and we'll get them out to you.