Macmillan Coffee Morning
This morning (30th September 2011) Kezia enjoyed a coffee at the World's biggest coffee morning for Macmillan Cancer Care. 
Kezia was pleased to be able to join in the fundraising efforts of this charity which works so hard helping those with cancer and their families.  She hopes that the nationwide coffee morning has raised lots of money to fund frontline services which are so valuable to patients, and was proud to support Macmillan.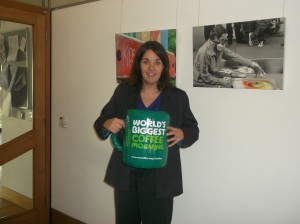 Sign up for updates from Kezia
"Kezia Dugdale has taken a real lead on the issue of fair internships. Unlike other politicians who talk a good game, we are delighted that Kezia is putting her words about internships into action. By paying interns the Living Wage, having a transparent recruitment process and offering a variet of interesting work, we are confident interns will get a great experience – and Kezia will get great interns! "
Ben Lyons - Co-Director of Intern Aware
This site is slowly in transition from a blog to a website which will cover my work as an MSP for the Lothians region. In that sense, I will no longer be allowing comments on my post. If you want to engage in a debate or pass comment, email me. Although I reserve the right not to engage with comments which I deem to be offensive or inappropriate.