Intern Testimonials
The ninth internship was undertaken by Erin Mulhatton. The theme of her internship was Education with a focus on the every step campaign. Erin said:
"I have really enjoyed my time as an intern in Kezia Dugdale's office and my time in parliament in general. I have learnt a wide range of skills which are very transferable, which will be useful for when I graduate next year.
I focused mainly on the every step campaign.  It was great to see a campaign grow and evolve especially a campaign which can positively impact so many peoples lives. Through that campaign I got to work closely with members of the public to tell their stories around childcare which I really enjoyed.
I learnt a range of skills from the team in Kez's office, who made me feel apart of the team right away. Also the fact that the internship pays a living wage means that even though I live in Dundee I was able to have this opportunity.
If you are thinking of applying I would do it! The skills I have gained and experiences I have had are not available through most jobs especially while at university.Just go for it."
* * * * * * * *
Frank Toner was the first intern to undertake Kezia's intern programme. His internship was themed around the Co-operative Model and took place from September to December 2011. Frank said the following of the programme:
"Being a Parliamentary Intern for Kezia Dugdale has taught me a lot of transferable skills. Skills not taught at university such as writing reports, diary management, drafting motions, drafting parliamentary questions and more.
It is fair to say that after being unemployed for six months I was in no position to gain these skills by working for free. The fact I was paid the living wage (£7.20) allowed me to commit to the 12 week programme.
During my internship I managed to gain full time employment with Neil Findlay MSP, thanks to the training received during my internship.  I would recommend anyone looking to gain experience of working in Parliament to apply for this paid internship (rare in the world of politics).
Kez and her team have been very supportive and have taught me all the skills needed for my job with Neil Findlay. During my time with Kez and her team I have made friends for life and I look forward to working alongside them all over the coming months."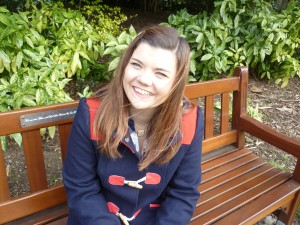 Charlotte Pope was the second intern to undertake Kezia's intern programme. Her internship focused on the Living Wage campaign. Charlotte said:
"I have really enjoyed my time working as a Parliamentary Intern for Kez Dugdale. The opportunity has given me numerous skills needed for working in Parliament including drafting parliamentary questions, dealing with constituency case work and drafting briefings.
Through Kez's internship I also had the chance to work with the Poverty Alliance regarding my theme of the Living Wage. Between Kez and her team, and the team at the Poverty Alliance, I was given the opportunity and guidance to have a small impact on an issue I passionately support.
The fact Kez pays the Living Wage is an obvious bonus; I have gained skills and had experiences that an average student Saturday job would never have been able to give me!
I'd urge anyone considering applying for future internships with Kez to go for it. I have nothing negative to say about the experience and would apply again myself if I could!"
The third Internship - focused on Child Poverty - was undertaken by Shaun Corbett.  Shaun gave us the following testimonial:
"There are few opportunities more rewarding than interning for Kezia Dugdale MSP. One of the more obvious benefits is the chance to work on an important issue and hopefully make a difference – my internship was themed around  Child Poverty, which meant an excellent chance to work with Save the Children, and I also did some work on the pressing, ever more relevant issue of high-interest payday loans.
The fact that Kezia pays all interns a living wage was imperative for me – I was able to continue a part-time summer job at home while commuting to Edinburgh weekly for the internship. I could not afford to take the position otherwise.
However, what hasn't been mentioned is how fun the internship can be. Kezia and her staff are welcoming and incredibly patient when training interns, and we are never short of scones and coffee! Also, the geeky buzz you get from working within the Scottish Parliament cannot be underestimated.
Ultimately, I have relished my time working for Kezia, and the work that I have done and skills I have learned while working in her office will be inestimable when I graduate and will be seeking a full-time job."
The fourth Internship was focused on roving surgeries and casework and was undertaken by Marian Craig, who said:
"The opportunity to do a paid internship in the Scottish Parliament with an MSP like Kezia is one not to be missed. My experience has been fantastic - Kezia was great to work with and ensured I got the most from my time there. My internship was on roving surgeries and casework, which meant I got a real understanding of how MSPs work both in the Parliament and out on the doorstep.
During my internship, I spoke directly to constituents and tried to solve any issues they might be having by writing to the appropriate agency, which included government ministers and the local NHS board. Cases ranged from the simple like asking the local council to re-route a bin lorry to the more complex cases such as doing research into ME. No two days working in the Parliament were ever the same and the tasks I was assigned were always varied and interesting.
Completing the internship teaches you a lot of things that you won't have learned in school, college or university and gives a real insight into how politics works in practice. You don't need to have lots of experience working for politicians to apply either, which means all applicants have an equal chance of becoming Kezia's next intern. Being paid the Living Wage also helps to ensure that this opportunity is accessible to all, especially if you live outside Edinburgh (like me!) and will be commuting."
John Morgan was selected as the fifth intern, which was centred on Kezia's Shadow Cabinet role of Youth Employment. John said the following of his experience:
"Although I spent only a short time - three months - working in Kezia's office, it was impressive how quickly I felt part of the team. The entire office really went out of their way to immerse me in the day
to day work of being a Parliament staffer and ensured I got as true-to-life an impression of what was involved. The properly personalised training was so thorough I learned almost as much here as I did on my degree!
Being based in North Lanarkshire, the fact that Kezia paid interns the living wage was entirely necessary to make the opportunity feasible. Even after working here for three months, I still get the 'geeky buzz' that Shaun talked about every time I walk through the garden lobby. Having saw things happen in Parliament through the day and then being able to commentate on the evening news was quite interesting. I also was able to accompany Kezia on trips to BBC Radio Scotland and out meeting constituents on the doorsteps.
I loved the experience (and the extracurricular 'tours' of Edinburgh's drinking establishments) so much that I'm moving to Edinburgh post University. The experience of working in Parliament was instrumental in me gaining a graduate job in a law firm, so I'd also highly recommend it for improving your employability. Best of luck to everyone applying, it really is an amazing and pretty unique experience!"
Declan Sheridan was the sixth intern on Kezia's programme. His work was centred around the issue of payday loans and Kezia's Debtbusters campaign. Here are his thoughts on his time in the office:
"I remember being really excited when I first heard I had got the internship, and I have to say that my time there, though short, has lived up to that excitement. I quickly felt a part of the team and it was through this quick transition that I believe I have gained experience that I never would have through an ordinary job, or even through university…and not to mention had fun whilst doing it!
My internship was based around payday loans which has allowed me to work closely with Kezia's 'Debtbusters' campaign, allowing me to have a small impact on an issue which I care greatly about. However, my internship wasn't limited to this and I was able to experience so much more from learning to draft parliamentary questions to going on roving surgeries.
I have truly enjoyed my time working for Kezia, and have no doubt that the skills I have gained will be invaluable in the future. I cannot express how much I urge anyone thinking about it to apply; I know that I would do it again if I could."
Issy McConville was the seventh intern on Kezia's programme. Her work was themed around the issue of gender inequality. She said:
"Working as an intern in Kezia's office has been an amazing opportunity. I felt so welcomed by the team and I never had a dull day. My internship was based around the theme of gender inequality, an issue I really care about, but I also learnt so much about the day to day business of parliament, such as learning to draft motions and respond to casework.
Working in the Scottish Parliament is so exciting, and you don't need to have lots of experience in politics to apply, just an interest in the issue you're working on. I was lucky enough to be able to organise an event focused around gender issues in the Parliament, called 'Next Generation Feminists', which saw around 60 guests attend workshops and hear from speakers from key feminist campaigns, such as the Everyday Sexism Project and the No More Page 3 Campaign.
I would encourage anyone to apply for this internship – you gain skills you would never get anywhere else and it's such a friendly environment to work in."
The eighth internship was undertaken by Zak Campbell - Lochrie. The main focus of the programme was the Debtbusters campaign for government issued 'wealth warnings' about the dangers of payday loans. Zak reflected on his experience:     
"Working as a paid intern for Kezia Dugdale has been a tremendous experience from start to finish. From my very first day I was made to feel really welcome and valued by everyone in the office.
The internship was well structured throughout, meaning that I was able to learn about some of the key tasks in parliament including being given the support and freedom to draft my own parliamentary motion and to submit a freedom of information request.
I was also lucky enough to spend some of my time working on the Debtbusters campaign against the exploitative practices of payday loan firms. It was fantastic to be involved in such a vibrant and exciting national campaign about an issue I am really passionate about and the Scottish Government agreeing to publish Christmas payday loan 'Wealth Warnings' made the work of everyone involved in the campaign feel extremely worthwhile.
If you are considering applying, I couldn't recommend this internship highly enough. It has been a fantastic opportunity from which I have a learnt a great deal and the skills and experience I have gained will be extremely useful for many years to come!"