Daily Record Column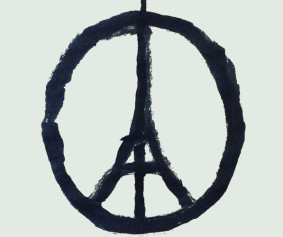 Monday, November 16th, 2015 @ 11:19AM
Paris
What was your reaction when you first heard about the terrorist attacks in Paris?
For me, it was heartache.  So many lives were lost and that so many more were torn apart. Think of the fear people in Paris will have felt, as the terrorists went on the rampage killing indiscriminately. Think of the families who waved goodbye to their loved ones earlier in the evening, not knowing they would never see them alive again. Too many parents will never get to see their children grow up and too many young lives have been cut short. Their pain is unimaginable, their sorrow hard to fully understand.
My heartache quickly turned to resolute determination, though. We can't let the terrorists win. And the way they win is by forcing us to change our way of life. Our values of freedom and tolerance are more enduring than any act of terrorism. Free speech, people from different religions and backgrounds living side by side, welcoming those who come from afar to live in our nation - these are the fundamental values that have shaped countries like France and the UK for centuries. Turn against them now and the terrorists win.
The purpose of terror is to make us afraid of one another, to be fearful of the ordinary and to make us suspicious of our neighbours or 'the other'. Tomorrow we have a chance to show that we will not bow down to that goal when the first of the migrants from Syria land in Scotland.
There will be some who will want to blame all migrants for what happened in Paris. Too many will rush to sweeping judgment, tarring all migrants with the same brush. But we must remember that those who are fleeing Syria are doing so precisely because they don't want to live in a country where the attacks we saw in Paris are par for the course. For so many families in Syria the threat of terror, war and violence is an everyday reality.
We must not give in to the terrorists by turning against the most vulnerable who come from afar seeking our help. That's exactly what those who attack the people of Paris want. They want us to become a 'them and us' society. They want us to reject integration. The worst thing we could do is to hand them that victory.
Care leavers
A government must be judged by how it supports the most disadvantaged people in our society, and they don't come much more disadvantaged than young people in care. Whether because of neglect or circumstance, these are young people who grow up without the support network other talented young people take for granted, through no fault of their own.
So I have a plan to help them. The government should provide £6,000 in grant support for any young person in care who has the talent to go on to higher education after school.
We need to close the gap between the richest and the rest, so that care leavers can have as many opportunities to get on in life as any other young person. Too often we simply forget about them. Not necessarily out of malice or intent, but because they don't have enough people to speak up on their behalf. The reality is that young care leavers are more likely to go to jail than university. We need to reverse that trend, and the way to do that is to make it easier for care leavers to go on to university.
Politics is all about making choices. When we decide how to spend public money we are making clear our priorities. Giving young people the best start in life is my priority.
The SNP Government has a pot of money called an attainment fund. It's not particularly well targeted at the moment. Nicola Sturgeon should use some of that money to help the most disadvantaged in our society. As I say, politics is all about choices…
US Presidential race
I had the pleasure of speaking to the Democrats Abroad conference in Edinburgh on Saturday night. This is the group for members of the US Democrats, President Obama's party, living abroad. How reassuring to speak to Americans who utterly reject the ideological nonsense we see from the likes of Donald Trump and Ben Carson. It's not over dramatic to say that for the sake of the world these men cannot succeed. That's why I am backing Hillary Clinton all the way.
Children in Need
Children in Need raised a record breaking £37 million on Friday night. The generosity of the British people never fails to amaze. But I look forward to the day when those in need don't have to rely on charity to get the support they need.
Posted by keziadugdale
Categories: Uncategorized