Daily Record Column: Inheritance tax and more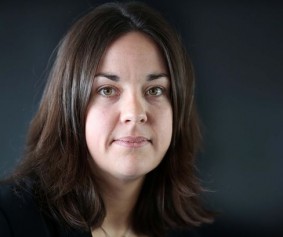 Monday, July 6th, 2015 @ 12:10PM
Kezia's weekly Daily Record column focuses this week on inheritance tax, the trouble with trains and more.
Inheritance tax, what about inherited poverty?
26 November 1996, that's the last time a Tory Chancellor stood up and delivered an unfettered Tory budget. I was 15 years old and probably in my bedroom with the stereo ramped up. In fact it was a ghetto blaster – anyone under 25 can that. You put cassette tapes in it. You might want to look them up as well.
Prodigy's Breathe was number one in the charts. "Breathe the pressure, you play the game and I'll test ya" went the lyrics. Now the Tories are back playing their games and the whole country will be tested.
As fortune would have it, Breathe came from the Prodigy's iconoclastic album "Fat of the Land" and it's something the Tories have been living off for sometime now.
In that 1996 budget, the Chancellor Ken Clarke took too his feet and derided the evil's of inheritance tax. He said that tax was " a penalty on thrift, independence and enterprise" and then he raised the thresholds to £215,000. Meaning that the first two hundred grand of a property's value would be passed down the family line tax-free.
This week George Osborne will rise to his feet, making that same argument before lifting that threshold to £1million. Even with inflation, that's 3 times the 1990s Tory dream.
Now I'm all for people getting on in life, folk getting a promotion, a conservatory, a bigger house and a better car. And I reckon most Scots would agree with George Osborne when he says that "the most basic, human and natural instinct there is, is for a parent to be able to pass something on to their children."
But just as there's a tremendous amount of inherited wealth in this country, there's a mountain of inherited poverty too. That mountain will get all the taller this week when George Osborne chooses to slash both tax credits and inheritance tax.
Politics is all about choices and this is the choice the Tories make – to give a huge tax break to the wealthy whilst cutting the tax credits of over half a million kids in Scotland.
I want to end inherited poverty, not inheritance tax. That means being ready and willing to redistribute both power and wealth. It means giving kids the best possible chance in life to break away from their predetermined destiny.
The most convenient time to tax the rich is when they're dead. The job of building a fairer more equal country will get that little bit harder this week.
Train disruptions
I've been getting more time on the train recently to enjoy the sights of central Scotland, as many of you may know the Edinburgh to Glasgow service has been disrupted as repairs are made to the Winchburgh tunnel. The extra half hour on the train can be a bit of a pain, but repairs need to be made and most of us understand that.
But the announcement this week that ScotRail were reducing their Sunday service by a third because drivers were having to volunteer for shifts is harder to justify. Last year the SNP Government in Edinburgh handed millions pounds of taxpayer cash to Dutch firm Abellio to run our railways, since then we have seen a slew of problems with accusations of redundancy by stealth and resignations from senior Abellio executives.
Abellio didn't bid on the basis of a seven day working week, and trade union bosses have slammed an "amateurish" approach to industrial relations – the question that the SNP need to answer is why are there so many problems, so soon after Abellio took over from First Group?
Scottish Labour and the trade unions back a better future for our railways. We want to see a People's ScotRail, where a non-profit public sector group could bid to make the trains run on time. That means that rather than taxpayer cash going to shareholders or supporting infrastructure in another country we cold reinvest it back in our railways, potentially meaning cheaper fares and better services.
We'll amend the Scotland Bill to deliver it. In Scotland we talk a lot about powers for the Scottish parliament, a People's ScotRail means powers for a purpose.
Greek Referendum
As I write this the people of Greece are headed to the polls to decide their future, will they accept the deal offered by the European Commission, the IMF and the European Central Bank or will they say no, which could spark a chain reaction leading to Greece leaving the EU and the return of the drachma?
It's a decision for the people of Greece, but the stories coming out of the country show the reality of austerity. Our tv screens are obsessed with pictures of people queuing to use cash machines. Pensioners without bank cards literally left penniless and epic cuts to public services on the horizon.
Here's a country we all associate with democracy, sunshine and holidays. This weekend a dark clouds looms, the people will speak but will democracy prevail?
Women's World Cup
It's been one of the fastest growing sports for a number of years now, and for the past few weeks it's finally been given proper airtime on our TV screens.
And the early signs are that people were watching! More and more people have found themselves impressed by the standard of the women's game and I only hope it will encourage more of our young girls to think about being involved in this or any other sport.
I really wish the England team had won the World Cup though, mainly to stop the men stop banging on about 1966.
 It's still child poverty
The Labour Government in 1997 pledged to eradicate child poverty by 2020. The Tory Government of 2015 has pledged to eradicate child poverty statistics. If you don't count it, it's not there apparently. If ever you needed clear blue water between the two main UK parties, this is it.
Posted by keziadugdale
Categories: Latest News