30 Scottish Labour Parliamentarians Back Kezia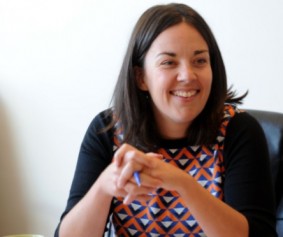 Monday, June 15th, 2015 @ 11:25AM
Almost three quarters of Scottish Labour's Parliamentarians have thrown their support behind Kezia Dugdale's campaign to be the next Leader of the Scottish Labour Party.
On the day that nominations officially open, Kezia Dugdale has received support for her leadership campaign from six more MSPs, joining Scottish Labour's MEPs and MP, and securing the support of 73% of Scottish Labour's elected members across three Parliaments.
Jackie Baillie MSP, Claire Baker MSP, Neil Bibby MSP, James Kelly MSP, Mary Fee MSP and Hanzala Malik MSP have announced their support for Ms Dugdale's leadership campaign.
Ms Dugdale announced that her campaign will be co-Chaired by Neil Bibby MSP and Claire Baker MSP.
Campaign co-Chair Neil Bibby MSP said:
'I am proud to join so many of my colleagues from across the labour movement in backing Kezia Dugdale to be the next leader of the Scottish Labour Party. It's without question that Kezia is the future of Scottish Labour, with the skills to unite our party and make sure we're ready for the challenges ahead.'
Declaring her support Campaign co-Chair, Claire Baker MSP said: 
"The Scottish Labour party needs a leader who can win back the trust of the people of Scotland. We need to look to a new generation and have a single focus - securing a more equal and socially just Scotland. Kezia works day in and day out to achieve this and she is without doubt the person for the job.
Kezia Dugdale said:
"It's an honour to have secured the support of 30 of Scottish Labour's 41 parliamentarians on the day nominations open.
"We know politics in Scotland has changed fundamentally and the Scottish Labour Party have only one chance to get it right.
"But this Leadership election isn't just about transforming Scottish Labour, it is about stepping up and regaining the trust of the people of Scotland.
"My campaign will be reaching out to people whose support Labour has lost, and those who've never voted for us before - because our values are as relevant today as they have ever been.
"Scottish Labour has been the insurgent force before, pushing back against the political establishment and winning great victories and profound social change. To win, we must adapt to new challenges and opportunites, and new barriers to progress. As Scottish Labour Leader that's what I would work for every single day."
Kezia Dugdale has received the support of six more MSPs:
Jackie Baillie MSP
Claire Baker MSP
Neil Bibby MSP
James Kelly MSP
Mary Fee MSP
Hanzala Malik MSP
They join the nominations of: 
Ian Murray MP
David Martin MEP
Catherine Stihler MEP
Richard Baker MSP
Jayne Baxter MSP
Claudia Beamish MSP
Sarah Boyack MSP
Malcolm Chisholm MSP
Patricia Ferguson MSP
Neil Findlay MSP
Rhoda Grant MSP
Iain Gray MSP
Mark Griffin MSP
Cara Hilton MSP
Johann Lamont MSP
Lewis Macdonald MSP
Jenny Marra MSP
Paul Martin MSP
Elaine Murray MSP
Alex Rowley MSP
Richard Simpson MSP
Drew Smith MSP
Elaine Smith MSP
David Stewart MSP
The timetable for the election of a new Scottish Labour Leader and Deputy Leader is below:
Monday 15 June
Nominations open for Leader and Deputy Leader
Friday 19 June - 12 Noon
Nominations (Leader and Deputy Leader) Close. Validly nominated candidates for Leadership to be published.
Friday 19 June - 5 PM
Supporting nominations open
Monday 22 June
Hustings period opens
Monday 13 July - 5 PM
Last date to join as member, affiliated supporter, or registered supporter, in order to vote in the Leadership ballot.
Friday 17 July - 12 Noon
Supporting nominations close
Monday 21 July
Ballot opens
Friday 14 August
Ballot closes
Saturday 15 August
Result announced
Posted by keziadugdale
Categories: Latest News