Positive visions, pupils and patients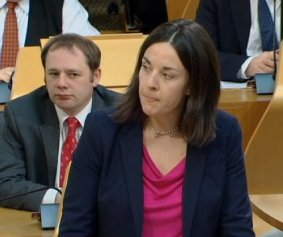 Saturday, May 30th, 2015 @ 11:04AM
Kezia wrote in the Press & Journal about the need to unite people and offer a positive vision, as well as focusing on the SNP exam disaster and A&E waiting times still failing patients.
Striking a balance
Alan Partridge, Labour-man Steve Coogan's famous comic creation suffers a career set back and decides to relaunch himself through an autobiography. The book ends up pulped because it was too bitter. Alan uses it to settle scores and air old grudges, with each anecdote ending "needless to say I had the last laugh". I always have Alan Partridge in mind when I read Alex Salmond's regular columns.
Despite his party riding high he never seems content and spends his time, and his word count, settling scores with individuals and institutions he feels wronged him. Opposition politicians, defeated foes, businesses he disagreed with.
It makes me feel sad for him that he can't enjoy his success, but it also makes me want to change politics in Scotland. To make our political debate less acrimonious. Less anger, more good humour. I want politics to be about bringing people together rather than about division.
That's one of the reasons I want to lead Labour. I know many people will think I am crazy for wanting to take on this huge task. But I believe that by changing Scottish Labour with a fresh and new approach, by holding the government to account, working with them when we agree and offering alternatives when we do not, we will be able to show Scotland that there is a place for Labour values of fairness and solidarity in Scotland. It is through that work that we will regain people's trust.
We have had eight years of the SNP government now. I think their record on issues like education is woeful. But I realise that while holding Nicola Sturgeon to account I also have to offer a positive vision of how we can do things differently.
So yes, I'll not be afraid to say that when every year of a primary school kid's education has been under the SNP, poor literacy has been their fault. But I'll also argue for a vision of a Scotland where there is no barrier to any child filling their potential.
Pupils let down by government 
Thousands of children across the North East worked hard in class, did their homework and revised as best they could for their higher maths exam.
Unfortunately they have been let down by the SNP government this week.
Yesterday at First Minister's Question I raised with Nicola Sturgeon the worry that many pupils have that the higher maths exam was too difficult, and received back little that will comfort them and their parents.
Teachers have been warning of this coming storm for months now as they foresaw problems with how the SNP Government implemented the new national exams.
Headteachers said it would be a 'disaster', teachers across Scotland said their plans would be a 'catastrophe' and both called on the delay of the new Highers, so it could be done properly.
It all came to a head last week when thousands of pupils sat down and turned over their Higher maths exam, with children leaving the exam in tears and unable to finish. Leading to nightmares about frogs and toads.
Over 17,000 pupils have signed a petition in protest at it being too difficult and many have now condemned it as flawed.
The result of this will see our appeals systems tested to its limits, which would be fine if it was a fair system. But our current system currently favours pupils from private schools over state schools pupils', as getting an appeal or re-mark is based on a schools willingness, and ability, to pay a fee. A fee the SNP introduced last year for the first time.
I warned the First Minister about the injustice of this in January and she chose to do nothing. This is going to hurt a generation of bright children and their chances to progress their education and gain qualifications.
Nicola Sturgeon gets one grade on this subject, and she won't like it.
NHS crisis continues
What would happen to you if you broke the law 635 times?
That's what has happened under the SNP's watch in NHS Grampian in the first months of 2015, and it wasn't just any law, it was their own law for patient's rights which they introduced in 2011. A treatment time guarantee of 12 weeks.
Our NHS has endured a terrible winter including a crisis in our A&E departments, a bed shortage alongside major warnings from NHS staff and experts.
Spring may be here, but the effects of the SNP's failure to protect our NHS and patients across Scotland still continues like those dark winter nights.
Posted by keziadugdale
Categories: Latest News, SNP