Kezia backed by over half of Labour MSPs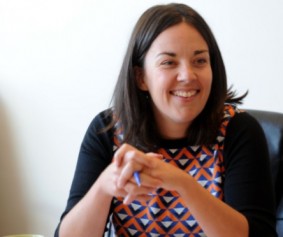 Saturday, May 23rd, 2015 @ 10:12AM
Press Release for Saturday 23rd May 2015.
KEZIA WINS THE BACKING OF MORE THAN HALF OF LABOUR MSPs
Kezia Dugdale has won the backing of more than half of Scottish Labour's MSPs in the first 24 hours after announcing her intention to stand.
20 Scottish Labour MSPs have been the first to sign up to a statement supporting Kezia Dugdale's bid to become Scottish Labour Leader once Jim Murphy stands down.
The current Deputy Leader of Scottish Labour announced her intention to stand on Friday, saying she offered a fresh start. She said that regaining the trust of the Scottish people won't happen overnight and that returning to winning ways is a long-term project.
Ms Dugdale has already won the backing of the Shadow Scottish Secretary and Member of Parliament for Edinburgh South, Ian Murray.
Scottish Labour's Deputy Leader Kezia Dugdale said:
"I am proud to have already won the support of so many Labour colleagues in the Scottish Parliament.
"The geographical spread of support I have – with MSPs from north and south, east and west – as well as the backing of MSPs from different parts of our movement shows I can bring our Party together.
"Regaining the trust of the people of Scotland won't happen overnight. There is no short-term fix to Labour's long-term problems that have been years in the making. I have made it clear to colleagues that if elected leader I plan to do the job for many years to come. That so many have supported me shows a clear understanding of the challenge we face."
…………………………………………………………………………………………………………………………
Below is the statement signed by 20 Scottish Labour MSPs in support of Kezia Dugdale:
"We believe Kezia Dugdale should be the next leader of the Scottish Labour Party.
"We are from different parts of the country and different sections of the Labour movement - but we are all agreed that Kez is the best placed person to unite the party, bring the movement together and lead us in the years ahead."

Richard Baker MSP
Jayne Baxter MSP
Claudia Beamish MSP
Sarah Boyack MSP
Malcolm Chisholm MSP
Patricia Ferguson MSP
Neil Findlay MSP
Rhoda Grant MSP
Iain Gray MSP
Mark Griffin MSP
Cara Hilton MSP
Lewis Macdonald MSP
Jenny Marra MSP
Paul Martin MSP
Elaine Murray MSP
Alex Rowley MSP
Richard Simpson MSP
Drew Smith MSP
Elaine Smith MSP
David Stewart MSP
Posted by keziadugdale
Categories: Latest News