#Indyref2 and the choice in this election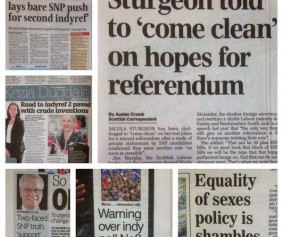 Monday, April 27th, 2015 @ 10:08AM
With less than two weeks to go, Kezia uses her Daily Record column to focus on the SNP's real intentions at this election, Ed Miliband's different plan, and the hard working activists of the election.
#Indyref2
"It wasn't a no vote, just a not yet." The words of the SNP candidate for Midlothian. And he's not alone.
Nip across the Edinburgh bypass into South Edinburgh and you'll find Paco McSheepie – the SNP Candidate who is in hot water this week for calling no voters "Quislings" and questioning the right of pensioners to vote.  He thinks a majority of SNP MPs in 10 days time is enough to declare independence.
Join the M8 from Midlothian to Paisley and you'll find another SNP candidate, the one that "F***ing hates celtic" by the way, she said that 30 Plus SNP MPs is enough for a second referendum and that they should be "the rope that a hung parliament hangs on." Charming.
Jump on the A9 and four hours later, you'll find another candidate in Inverness who said "Never mind the referendum. Just declare independence."
The road to a second referendum is paved with SNP intentions.
Each and everyone of these candidates has passed the SNP vetting procedure and has been declared a fit candidate for office. Each and everyone has been selected by SNP members. Make no mistake, this who the SNP are and what they want.
But is that really want you want? To go through all that again?
My No meant No.
I believed the SNP when they said it was a once in a lifetime, once in a generation event. That wasn't a slip of the tongue, it was written in to the White Paper, plastered on billboards by my house and stuffed through my letterbox. It was a promise made that can't be broken.
Why? Because the people have spoken. 85% of us bothered to cast a vote. More people voted No than voted in the 2011 elections. Think about that for a second. That election gave the SNP a majority of seats in the Scottish Parliament. If you want to talk about a mandate, this is it.
Let's stop this in it's tracks and take a different road. One towards a fairer economy. Lets elect Labour MPs that are focused on the future, not reliving the battles of the past.
Labour men and women driven into politics by a desire to fight inequality. To end the bedroom tax, to end the need for foodbanks. To drive out zero hour contracts.
So let's put our footdown and demand Nicola Sturgeon rules out another referendum.
Ed's alternative plan
The hubris of the Tories know no bounds. They all thought he'd crumble under the pressure, but this general election campaign has been a personal triumph for Ed Miliband so far. His personal poll ratings have soared and he looks relaxed, confident and hungry for the job. Hell he was even mobbed by a hen party.
David Cameron on the other hand looks like he has lost his appetite for the job. It all started in that fateful TV interview in his kitchen with James Landale where, without even really being prompted, the Prime Minister said he didn't fancy more than  another 5 years of the job. He both managed to look arrogant (assuming the election was in the bag) and lazy, as if he actually couldn't be bothered with 5 more weeks.
And as those weeks have passed, he looks like a man without a plan. Here's a man born to rule, but doesn't really know what he wants to do with the power he's got - there's no real guiding mission.
He believes rich folk like him should pay less tax. That's why he's cut the taxes of his millionaire mates whilst millions struggle to make ends meet.
Ed Miliband has a different plan, one that's rooted in the hopes of working people. A belief that when they succeed our country succeeds. That can only happen when the country works for them which means taking on all the vested interests that hold people back, from the banks to energy companies and the media empires in-between.
Ed Miliband's years of standing up to the strong have made him stronger, tougher and ready for the job. David Cameron's years of hammering the weak, have left him lame.
The choice is clear.
Activists 
Spare a thought for all the party activists out there, whatever their party hue who are running themselves into the ground standing up for what they believe in.
In the past few days I've seen a few dog bites, an abundance of dodgy tan lines and the occasional case of rickets.
That's because you're average party activist has eaten nothing but supermarket sandwiches for about 5 weeks now. There should be some of sort of mandatory detox programme organised for the 8th of May.
And what about the partners who are left election widows, left with nothing but the ironing, a leaflet run and a cry of "I'll do it in the morning" as the front door slams again.
There's an irony in there – that whilst all these candidates and activists spend their days proving their differences, they have so much in common.
So if one comes chapping on your door, spare them a smile and maybe a bit of fruit.
Posted by keziadugdale
Categories: Labour, Latest News, SNP, Tories