First Minister's Questions 12 March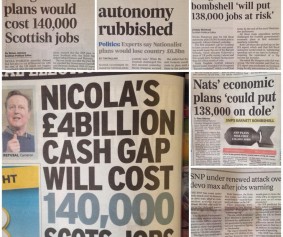 Friday, March 13th, 2015 @ 5:45PM
Kezia held Nicola Sturgeon to account at this week's FMQ's over her support of full fiscal autonomy for Scotland within the United Kingdom - meaning all tax and spending from Scotland remains in Scotland - and asked if this would result in the end of the Barnett formula and in turn, massive cuts and job losses.
Kezia said: "As the First Minister well knows, full fiscal autonomy does mean scrapping the Barnett formula. Only in the world of the SNP would we stop paying into a UK-wide system but expect the same system to continue to pay out to us.
"Last year, the First Minister said that scrapping Barnett would cost Scotland £4 billion. Yesterday, Scotland's official accounts confirmed that she was absolutely right. Does Nicola Sturgeon still agree with herself that scrapping Barnett would have cost Scotland £4 billion last year?"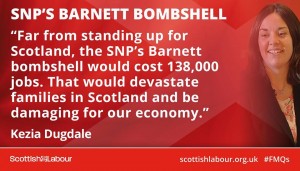 "Given the plummeting oil price, the independent experts at the IFS say that the cost to Scotland will rise to about £6.6 billion, which would mean massive spending cuts over and above what we would get if the Tories were to win in May. That would mean huge cuts to the budget for our NHS and our schools. It is austerity on a scale never seen before in Scotland. It is austerity max.
"Can the First Minister tell us how many jobs in Scotland would be lost under the SNP's plans to scrap the Barnett formula?"
Posted by keziadugdale
Categories: Latest News, SNP