New Allotments for Lochend!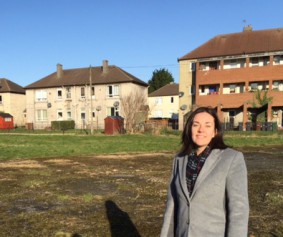 Tuesday, March 10th, 2015 @ 11:12AM
As one of your MSPs, I want to offer constituents as many opportunities as possible to raise issues with me through my regular surgeries in the Scottish Parliament, through my website or Facebook page or by a roving surgery, which involves me writing out to approximately 500 properties every fortnight and offering them a home visit. Since being elected in 2011 I have offered over 35,000 households a visit in their own home.
Last September I visited a constituent who lived in Lochend, who was worried about the number of uneven stones in the path to their tenement block, especially with the winter months coming up. We had a good chat and started talking about other parts of her local area. We discussed an area of grass behind her property which had become a dumping site for old sofas, fridges and other unwanted items. I said I would go away and see what I could do in terms of the trying to get her pavements fixed but also look at what we could do with that area to the back of her property.
For the past six months I have worked with the Council's Services for Communities department to take forward a plan and a consultation for the area and I'm delighted to announce that the local area board has agreed to turn this area of land in allotments for the local community.
I'm really pleased that so many local residents took part in the consultation process, and I'm even more delighted that many have already enquired about registering their interest in one of the allotments. I have been told by the Council that work will begin over the summer in getting them prepared.
I have no doubt there are many other spaces in our City and local communities that could also be transformed to serve local residents better. If you have an idea for a new swing park, allotments or anything else in your area then please get in touch so we can work together to try positive change to all our local communities.
Posted by keziadugdale
Categories: Uncategorized