First Minister's Questions 26th February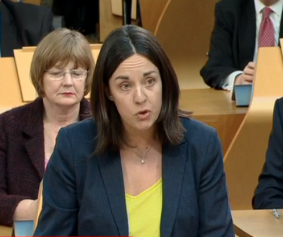 Friday, February 27th, 2015 @ 10:09AM
Kezia once again highlighted the growing crisis in our NHS at First Minister's Questions this week.
Nicola Sturgeon tried to defend the SNP's record on the NHS, critisising the Labour administration of eight years ago. Kezia quoted Dr Martin McKechnie, Scottish vice-president of the Royal College of Emergency Medicine who said that the NHS in Scotland is suffering from "a hospital and medical service crisis", journalist Iain Macwhirter, who said: "When politicians blame the previous administration, you know there's a problem. When they blame an administration that left office eight years ago, you suspect there could be a crisis.", Colin Howie, president of the British Orthopaedic Association and a leading surgeon who said: "We no longer have a short winter bed crisis. Surgical cancellations happen throughout the year because of the lack of facility. It is a bed crisis" and Suzanne Hunter, a nurse from Clackmannanshire, said: "This winter the NHS reached breaking point because we simply don't have the resources. Our NHS needs real help now."
The First Minister did not refute any of these points, saying that when health professionals make these claims, they are not wrong. But when Labour politicians make the same claims, they are wrong.
To read the full report, click here. 
Posted by keziadugdale
Categories: Labour, SNP