First Minister's Questions 5th February 2015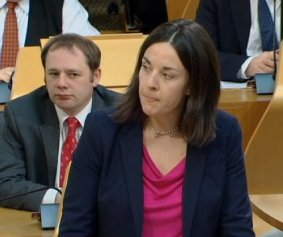 Friday, February 6th, 2015 @ 1:45PM
At First Minister's Questions on 5th February 2015, Kezia asked the First Minister Nicola Sturgeon about the governments record on NHS waiting times in Scotland.
After asking the First Minister to tell the Parliament whether the number of patients in Scotland who wait more than 12 hours in accident and emergency has gone up or down since 2008 (which is the first full year for which figures are available) and not getting a straight answer, Kezia stated that the number of Scots who have waited 12 hours in accident and emergency has increased by 170 per cent. She pushed that this is "a full-blown A and E crisis on the Scottish National Party's watch."
The official report can be read by clicking here. 
Posted by keziadugdale
Categories: Health, Labour, Latest News, SNP