Speech on female offenders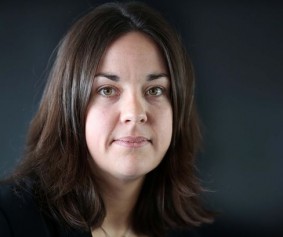 Wednesday, February 4th, 2015 @ 11:13PM
Kezia's speech on female offenders to Parliament on 28 January 2015.
I welcome the opportunity to devote Labour business time to female offending. It is to our collective shame that the female population of our prisons has doubled in the lifetime of this Parliament—especially as crime rates have fallen. I intend to outline why female offending matters and what it does to women, children, families and communities. I will then consider alternatives to prison, how we might grow and develop them, and how we might ensure sustainability in their funding. I will focus specifically on the impact of female imprisonment on children and the consequences of that.
I will first address the proposed superprison in Inverclyde. I whole-heartedly welcome the new Cabinet Secretary for Justice's decision to abandon plans for the 350-person capacity prison in Inverclyde. It is a welcome U-turn and is a credit to all those, including women for independence, who have made the case over the past few weeks and months and, in the case of the Howard League, for years.
I was astonished to see that the Government's amendment to Labour's motion would remove both the motion's reference to that "coalition of views" and the section about the
"cross-party and wider stakeholder support"
for the issues that we will debate. I am disappointed to see that.
The Government's decision is a U-turn, because the plans for the prison were very advanced. HM chief inspector of prisons for Scotland told the Justice Committee in 2012 not only that the prison would be in Inverclyde but its exact location, and noted that the land and building permissions had been sought and that the cost would be £70 million to £100 million. It was also said that we must plan for a prison of 300 and that it
"must run a service that is capable of servicing the courts."—[Official Report, Justice Committee, 30 October 2012; c 1923.]
Annual reports on progress towards the Angiolini recommendations were made to Parliament in 2012 and 2013, each arguing that the new prison was in the spirit of the Angiolini report. A letter to the Justice Committee in July last year reiterated that the build design was for a capacity of 300, but also said that that could be extended to 350, if necessary. It said, too, that the land would be cleared before Christmas. The pre-tender for the works was live on the public contracts Scotland website in September, with closing for notes of interest being before Christmas. As of yesterday, the documents were still live on that website.
The jail was happening until the Cabinet Secretary for Justice took the brave and radical step to scrap it, for which he should be congratulated. However, serious questions flow from that decision. The project was live for two years and was nodded along the way by the current First Minister and by the former First Minister.
The Telegraph has reported that the Government has spent £7.8 million so far on the plans for the superprison. That is an astonishing figure; it is almost three times what we have spent in the past two years on alternatives to jail. That money could have been much better spent building sustainability for community-based disposals across the country.
The former Cabinet Secretary for Justice, Kenny MacAskill, welcomed the U-turn—which was a reversal of his own decision—on Twitter. That is the theatre of the absurd.
The U-turn is welcome because a large-scale prison was not in keeping with the Angiolini report, which was a substantial piece of work with no fewer than 37 recommendations that achieved cross-party support. I reiterate the Labour Party's support for it. The commission was, of course, a commission on female offending, so it is worth taking a moment or two to reflect on why the issue is gendered.
Female offenders are far more likely to have suffered a trauma or a series of traumas in their lives They are far more likely to have suffered rape, homelessness, physical or sexual abuse, or a history of addiction and neglect. Some 76 per cent of women who were sent to jail last year were in for six months or less. The most common crime was shoplifting. When I spoke to staff at the willow project and the 218 service—I will come to them shortly—they said that, in most cases, women stole to feed a habit; their own or that of a partner. I mention that simply to highlight that the best way to break the cycle of offending is to treat its root causes. I will say more about that shortly.
It is important to say that we must not let this become a debate about who is hard or soft on crime. Such labels only serve to create tabloid headlines. Our duty as legislators and scrutineers is to focus on what works.
I mentioned that 76 per cent of women who were sent to jail last year were in for six months or less, but it is important to state that just 5 per cent of the women who were imprisoned last year were in for serious or violent offences—crimes that came with a custodial sentence of four years or more. If women are a danger to themselves or to wider society, of course they should go to jail. Of course that is right, and it is in keeping with the Angiolini report, which stated that we need one small-scale national facility. I was very interested to hear the cabinet secretary's reflections yesterday on the siting of such a facility. Perhaps we will hear more on that from him later.
I will move on to the development of community disposals. The Howard League has told me to try to avoid using the word "alternative" because it gives primacy to sentencing or custodial sentences. Many great organisations are working on alternatives. I have had the pleasure of visiting three of them in the past few weeks: the willow project in Edinburgh, the 218 service in Glasgow and Tayside Council on Alcohol.
The criminal justice social workers at the willow project and the 218 service said to me that their alternative disposals are not soft options and that it is, in fact, much harder for women to use the services than it is to go to jail because using them forces people to look at themselves in the mirror, to see themselves as they really are and to face up to some of the real challenges in their lives. The services offer health checks, serious group work, one-to-ones, addiction clinics and a full schedule of activities during the day to try to tackle the root causes of offending.
The 218 service in Glasgow has just 12 permanent residential bed spaces, although it deals with more people who attend on a day-to-day basis, of course. In Glasgow, sheriffs quite often wish to send people to the 218 service, but there is no room at the inn. We should aspire to having facilities such as the 218 service across the whole country in order to remove that impediment from sheriffs.
There are, of course, associated housing issues that we cannot ignore. Transitions out of projects such as the 218 service and the willow project are just as important as the existence of the services themselves, particularly in relation to security of housing. Many women in the 218 service have tenancies; the focus must be on retaining them because of the impact otherwise on their families. A woman's housing benefit will be spent on maintaining that tenancy, which means that the cost of her place at the willow project or the 218 service is carried by the project. The alternative is the woman losing her tenancy, which creates a homelessness problem that is even harder to address, as there is a shortage of one-bedroom properties.
The focus has to be on breaking the cycle of offending, but we must also consider relapse prevention. Things do not stop at the end of the community disposal—what matters are the services beyond that. I have already mentioned housing. In Edinburgh, the willow service encourages women to return at any point when they ever require the service in their lifetime. The door is always open for people who need that additional support.
When the Angiolini commission reported, the Scottish Government awarded £3 million to 16 projects across the country in order to build up community disposals. It is right to say that that is not just core funding, and it is certainly not revenue funding. It was awarded to build up a number of opportunities around the country in the hope that they would be self-sustaining through the criminal justice authorities. I ask the minister: what now for those facilities? What evaluation has the Government done of their sustainability? I know that the Government is considering the effectiveness of the projects, but is it examining how much money is left? One of the services that I have visited in the past few weeks does not know whether it will have any money beyond 31 March this year. If we are serious about building up community disposals, we must give such services security of funding so that they can continue their work.
That brings me on to children. Two thirds of the women in our prisons have kids—at least, we think that is what the numbers are. We do not have exact figures because, understandably, women are not particularly keen to disclose, given the impact that that can have. We know that for the children of men who have been jailed there is a 95 per cent chance that they will go on to live with their mum. However, just 17 per cent of kids whose mum is jailed go on to live with their father, which means that there is a much higher propensity for children to end up in care when their mother is jailed. That should concern us all.
Barnardo's runs a project at Cornton Vale that works with young women offenders under the age of 21. Not a single one of the mums currently has custody of her children. Just one third of the women who access another project that is operated by Barnardo's—it mentors women who have experience of the criminal justice system—have custody of their kids.
Parliament has done great work on care leavers during this session, and we should be proud of that. Labour members were certainly proud to support the Government on the Children and Young People (Scotland) Bill, but we must follow that through and focus on the needs of looked-after children all along the way.
The Angiolini report tells us that more children in Scotland are affected by parental imprisonment than are affected by divorce, and that up to 30 per cent of those children will go on to develop mental health problems in their lifetimes.
We need services that are focused on tackling the deep-rooted issues of poverty and inequality, and we need them now. We need to break the care-leaver trajectory that says that a looked-after child is far more likely to go to jail than they are to go to university. That, too, should concern us all.
Later in the debate, members will hear from my colleague Elaine Murray, who will focus on the particular issues that affect women who are on remand. I spoke at the 218 project to a woman who had been on remand for eight weeks. During that time, she lost custody of her children: it took her three years to get those children back. That was a consequence of an eight-week stint on remand.
My colleague Jayne Baxter will focus on community justice centres, in particular in Fife. Mary Fee will talk about families that are affected by imprisonment and the work that the cross-party group that she chairs has done in that regard.
My colleague Richard Simpson will come on to Labour's record. It was particularly unfortunate to see a tweet over the past few days from Christina McKelvie, I think, which asked what Labour had ever done on this issue. We will hear more about that in the course of the afternoon. When in office, Labour did a tremendous amount of work on this issue—Richard Simpson and Hugh Henry both served Parliament in the role of Deputy Minister for Justice. They set up drug treatment and testing order courts. I spent an entire day at one with Dr Oliver Aldridge, who is a consultant psychiatrist and world-leading expert on these issues. Hugh Henry and Richard Simpson are also responsible for the 218 project's inception.
In the past few weeks, I have said that Parliament is at a crossroads on female offending. We were about to spend £75 million on the wrong thing while funding for the thing that works was about to run out. Half that problem has been solved with the justice secretary's U-turn this week, which we very much welcome, but the picture is not yet complete.
Once again, I congratulate all the organisations that have been campaigning and I emphasise the need for cross-party support in the future. I look forward to today's debate.
I move,
That the Parliament welcomes the decision of the Scottish Government to abandon its previously published plans for a large-scale women's prison; congratulates the coalition of views that helped to bring about this decision; believes that the report produced by the Commission on Women Offenders led by Dame Elish Angiolini provides a clear roadmap for a different approach to women offending; believes that adequate and sustained funding is needed for community-based alternatives to imprisonment, and calls for full cross-party and wider stakeholder support and engagement in the debate and delivery of the commission's recommendations.
Posted by keziadugdale
Categories: Justice, Labour, Latest News, SNP