Ebola Statement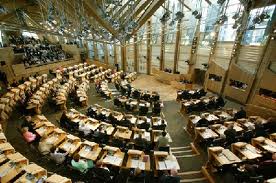 Tuesday, January 6th, 2015 @ 3:17PM
Today Kezia responded to the First Minister's statement on Ebola and you can see her response below. For more information and advice from Health Protection Scotland about the Ebola virus please click here. 
I thank the First Minister for that statement and send the sympathy and thoughts of these benches to all the families affected by the tragic events at George Square and in the Pentland Firth.
I'd also like to pay tribute to our staff in the NHS, the Coastguard, RNLI and all our emergency services for their compassion and dedication.
I too would like to pay tribute to Pauline Cafferkey. Her bravery is extraordinary.
Hero is a word we probably use too readily Presiding Officer and in so doing, diminish its value.
The definition of a hero is someone who risks their own life for others.
Someone who puts themselves in danger for the benefit of others.
Someone who doesn't think what it will cost them personally, but acts because they must.
Because someone must.
Pauline Cafferkey is a hero – as are all of the aid workers helping to fight Ebola. Heroes whose names we will never know.
Can I also take this opportunity to recognise the vital work of UK charities like Save the children, Oxfam and Christian Aid, who are doing so much to respond to the outbreak.
Ebola has taken hold in countries that are least equipped to cope with it. The outbreak has devastated health systems in Liberia, Sierra Leone and Guinea, leaving many unable to receive treatment for conditions like measles and malaria – and thus increasing the death toll.
There is a huge difference between the response and care the NHS is able to provide here, and the equivalent in West Africa.
I am proud of the UK's international development work and I very much welcome the £1million that the Scottish Government has committed to that end.
Can the First Minister tell us more about how this money will both help tackle this outbreak in Western Africa and guard against another in the future?
Posted by keziadugdale
Categories: Uncategorized