Shockingly Easy Campaign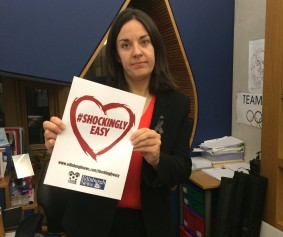 Friday, December 12th, 2014 @ 3:40PM
Kezia was really pleased to take the pledge to support the Edinburgh Evening News Shockingly Easy campaign which aims to fit lifesaving defibrillators in sports clubs across Edinburgh and the Lothians. It is being run in partnership with the Jamie Skinner Foundation and backed by the Scottish Ambulance Service.
The campaign was launched in July in memory of 13-year-old Jamie Skinner, who died after suffering a cardiac arrest on a Saughton football pitch, and it has already raised tens of thousands of pounds to buy defibrillators.
More than 600 apparently fit and healthy people under the age of 35 die in the UK every year from undiagnosed cardiac problems – and many of these deaths are easily preventable. If you have a heart attack outside hospital, you are three times as likely to survive if one of these heart start machines is nearby and used to treat you quickly. Sadly, all too often that is not the case.
The campaign is spreading the word this Christmas about the life-saving devices to identify locations across the Lothians which can host a heartstart machine. To help support the encourages people to draw a heart on a piece of paper and post a #shockinglyeasy selfie while pledging to spread the word
How you can help
Draw a heart on a piece of paper and post a #shockinglyeasy selfie and pledge to spread the word
Raise the issue with the committee of your local sports club and ask them to support the campaign.
Learn CPR skills or volunteer to host a training session at your club. If you can help, e-mail [email protected]
 If you already have a defibrillator, please let us know too, so you can be added to the ambulance services' defibrillator map of the Lothians.
If you want to make a donation, cheques payable to The Jamie Skinner Foundation can be sent to Shockingly Easy, Edinburgh Evening News, Orchard Brae House, 30 Queensferry Road, EH4 2HS. Donate online at fundrazr.com, search for Jamie Skinner.
Posted by keziadugdale
Categories: Uncategorized