BrewDog: equity for punks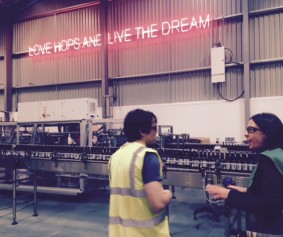 Friday, December 12th, 2014 @ 3:44PM
Equity for Punks. The ethos of a hip young company; the business model for doing it differently.
In three rounds of crowdfunding, craft beer brewers BrewDog has generated millions in revenue and gained thousands of investor 'punks' – committed fans of the brand, putting up cash and promoting their find to their pals.
Not bad for two guys and a dog who started selling their beer from the back of their beat-up van seven years ago. They now employ 240 people in their breweries and bars across the world.
I visited the HQ and brewery in Ellon this week. From the front desk to the mash tun, the ever-expanding premises are a model of cool.
Like many businesses, they have experienced – and still do – problems all too familiar to business owners in Scotland, particularly in rural areas: poor broadband, poor access to utilities, and poor transport links.
Unlike other businesses, Brew Dog has been named by the Sunday Times as the fastest growing food and drinks company in the UK three years in a row – and they choose to stay in Ellon in the rural north east.
After all, it's near where they were brought up. They have a connection to the community and want to keep that. Their first bar was in Aberdeen, and the bar on the industrial site of their HQ – housed in the old HQ building they quickly outgrew – does a roaring trade with the locals.
This conscientiousness extends to their practice as a living wage employer. They recognise the importance of retaining their staff and train them well – after all, they need to know all about the 96 varieties of beer they sell.
Craft brewing is on the up, tastes in food and drink are changing, and more people want to pay a bit extra for something a bit better – BrewDog have tapped this deftly with excellent beers and canny marketing.
They are, then, a unique success story, but there are lessons to learn.
Broadband and utilities haven't been their only problems – recruitment is another and particular to the north east, as they can't compete for skilled workers with the wealth of the oil and gas industry. A local skills strategy made with local businesses and colleges in mind would help them immensely as they grow.
A living wage employer, and a global brand continuing to expand, located in a rural community in Scotland.
Scottish Labour's on your side.
Another please, barman.
Posted by keziadugdale
Categories: Key Issues Section