Wild in the Park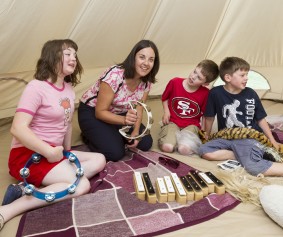 Monday, June 30th, 2014 @ 11:03AM
Everyone's favourite childhood memories involve being outdoors, whether its summer-holiday sunshine, or snow days, climbing things and getting muddy.
It's an important part of growing up – for development and education, as well as for physical and mental health – but one that can be of concern to families. Balancing safety and peace of mind with letting kids go off to play isn't easy when the park is out of earshot or next to a busy road.
YouthLink Scotland's recently hosted Scotland's first outdoor parliamentary reception, 'Wild in the Park', to highlight the need for outdoor learning and play, and I was so delighted to attend to see their work and that of their partners.
I hope that this kind of learning becomes a greater feature for young people, and, if done correctly, Curriculum for Excellence has the scope to develop that.
Right now the youth work sector makes a significant contribution to many educational outcomes, a significant amount of it through outdoor education via residential centres to camps, water-based activities to hill walking, climbing, environmental projects and so on.
And while some show-off MSPs took part in challenges such as raft building, wild cooking and survival techniques, as you can see, I was happy to impress the kids with my superior tambourine skills.
Posted by keziadugdale
Categories: Uncategorized