Scotland's Future Debate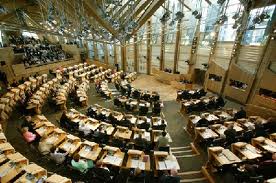 Friday, June 20th, 2014 @ 10:55AM
Kezia spoke this week during Labour Party Business on Scotland's future, and in particular she focussed on educational inequality, and the SNPs record on this whilst in office. You can read her full contribution below:
Kezia Dugdale (Lothian) (Lab): Johann Lamont has established well the case for why the best future for Scotland is one in which its devolved public services are delivered by the Scottish Parliament but are backed by the security and stability of the United Kingdom. My colleague Iain Gray has collated all the substantial evidence that states that Scotland would be £4.5 billion worse off under independence, having to find more than £4 billion just to stand still. In the time that I have got, I would like to look at the budget lines around education and how that money is spent. If I have time, I will consider the additional promises that the Government has made.
The magic number of £4.5 billion represents the money that we would need to find. It is also the drop in oil revenue between 2011-12 and 2012-13—and it is the entire schools budget.
I have spent a lot of time knocking on doors and taking part in referendum debates, and I have met a lot of undecided voters who are completely scunnered by the way in which we talk about the country's finances. One side says that people would be £1,400 better off and the other side talks about £1,000 with independence. People are left thinking that someone is going to run up to them with bundles of £20 notes, because they do not realise that those projections are based on estimates about what the situation will be 10 or 15 years in the future. If economists cannot forecast one year ahead effectively, how can voters give any credence to such sales pitches? That is why the comparison between oil revenues and schools is such a compelling one. Here is a resource that is so volatile that a dip in its value from one year to the next is enough to wipe out the entire schools budget.
Mark McDonald: The comparison is valid only if the member is asserting that oil revenues are all that would be available to pay for schools, but that is clearly not the case in a budget.
Kezia Dugdale: I am merely making the point that that is how undecided voters look at the debate. They are trying to get their heads around the finances, but Mark McDonald's side's sums do not add up—and they do not add up to the size of the entire schools budget. That is where the size and security of the UK come in. The UK can carry that fluctuation in prices with far greater ease than an independent Scotland could.
In her amendment, the Deputy First Minister refers to the Government's
"record of delivery under devolution".
Let us look at the detail of that record in relation to education. Cash-terms spending on secondary schools is falling—from 2008 to 2011, it fell by £91.4 million. Real-terms spending on secondary schools is also falling—since 2007, it is down 8.6 per cent.
Teachers are feeling the pressure of having to deliver more for less. The latest Educational Institute of Scotland teacher survey, which was published just last week, contains some startling statistics: only one teacher in three is satisfied with their working life; 84 per cent of teachers had varying levels of work-related stress; and only one teacher in 10 was satisfied with their current workload. The resounding message from teachers is that they do not feel heard, do not feel valued as professionals and do not feel that they are getting the support that they require.
Meanwhile, educational inequality persists. It is at its starkest when we examine the experiences of looked-after children in Scotland. This week, the Scottish Government produced a new report on looked-after children, although members would be hard pressed to find it underneath all the other bumf on the Scottish Government website, including proposals for a new constitution. That shows once again the complete lack of the Government's exposure of, and priorities on, the issue.
Let us look at the headline numbers. First, 85 per cent of looked-after young people left school as soon as they were old enough, in comparison with 30 per cent of all school leavers. Only 62 per cent of looked-after kids had positive destinations after school, compared with 90 per cent of all school leavers. To the Government's credit, that is a considerable improvement on 2009-10, but there is still a long way to go.
The news on tariff scores is not so good. The average tariff score of a looked-after child in Scotland is 86, whereas it is 407 across all school leavers. That means that kids who are not in care are outperforming kids in care by a rate of five to one. That is a shocking statistic, but it is not the most damning statistic in the Government's report, because the gap is getting bigger: the tariff scores across all kids are increasing at twice the rate of that for looked-after children.
That matters in the debate because education is an entirely devolved issue. The Scottish Government, not the dastardly Administration 400 miles down the road, sets the priorities and makes the hard choices.
Peter Peacock asked the OECD to investigate Scottish schooling back in 2004. A comprehensive and compelling report was produced in 2007 showing that we had an inequality problem in our schools. The Government has completely failed to address it. That record speaks volumes about the Government's commitment to tackling inequality in our schools.
The education maintenance allowance is another classic example. Mike Russell boasts about the increased number of school pupils who are in receipt of the EMA, but denies that he has cut £10 million from the budget, while college students are unable to take it at all. There has been a 26 per cent cut in the EMA.
What about colleges? There has been a 37 per cent reduction in student numbers. The SNP will say that those numbers are wrong, but it fudged the statistics by redefining a full-time course. Once again, women are disproportionately affected by those changes. That is before we even get to the SNP's childcare commitments. We and the Scottish Parliament information centre believe that those will cost £1.1 billion, and the Government will not produce the economic model that will tell us where it will find that money.
The Government needs £4.5 billion post-independence just to stand still, but it is standing still on the big issues such as educational inequality. That tells us everything that we need to know about its values and priorities. The Deputy First Minister says that we should look at the record. Well, the record on inequality is wafer thin. Why would it be any different with independence?
Posted by keziadugdale
Categories: Uncategorized