RIP Margo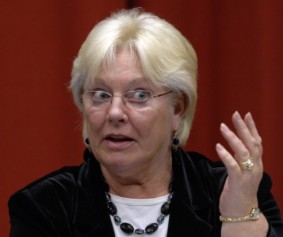 Friday, April 4th, 2014 @ 3:44PM
Very sad to hear today that Scotland has lost another of its great politicians in Margo MacDonald.
I've tried several times to write a tweet that sums up Margo - but the confines of 140 characters have finally defeated me.
I've known Margo from the day I walked through the door of the Scottish Parliament back in 2007. I worked for George Foulkes at the time and he had a long but very friendly history with Margo and her family.
Margo would often stop me in the corridor or haul me in to her office with a friendly "Come here you!" or "A word in your ear." Sometimes she'd sit me down and tell me where the Labour Party was getting it all wrong. Other times she'd give me some personal and very helpful advice ("watch your back!")
Occasionally, she'd get the photo albums out and show me pics from the Govan by-election.
She was both lovely and cutting.
Kind. Caring. Astute. Hilarious.
A brilliant politician and a very big loss.
Many others knew her better and for longer. But she had a massive and very positive impact on my political life and I've very sad to see her go.
Posted by admin
Categories: Uncategorized