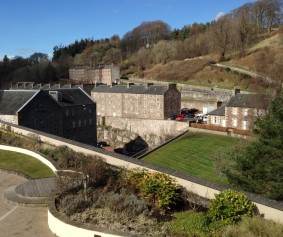 Friday, March 28th, 2014 @ 12:15PM
It was a great privilege to visit New Lanark on Monday with Karin Christiansen, General Secretary of the UK Coop Party. New Lanark is of course the home of social pioneer and co-operator Robert Owen.
 Children worked long hours in Robert Owen's mill under arduous conditions but unlike other Mill Managers, Robert Owen believed in community and in investing in its people, so he built a school but not just any school. This was 1817 and Robert Owen's school had a no physical punishment policy, even harsh words towards children were discouraged… classes were mixed and education was based on the principle of play. He was centuries ahead of his time.
 He also built a crèche for mill workers and a nursery school – the first of it's kind. In the evenings, the school was turned over to adult education – whilst the Institute for the Formation of Character which he build a year earlier provided opportunities for families to socialise and let their hair down with dances and concerts.
New Lanark is of course now a world heritage site and relies on tourism. If you haven't been before, or even for a while, why not take a trip?
Posted by admin
Categories: Key Issues Section