Kezia Contributes to 'Legal Highs' Debate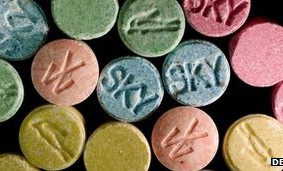 Friday, February 7th, 2014 @ 11:02AM
Kezia recently spoke in a Scottish Parliament debate about the growing use of 'legal highs'. This issue was particularly emotive because of the recent shocking incident of Regane MacColl in Glasgow. Kezia spoke about the need of Parliament and policymakers to understand the online marketplaces that drugs are purchased on, and how best to utilise all possible methods to convey the message to young people of the dangers of these substances. Kezia's co-convenor of the Cross-Party Group on Drugs and Alcohol, John Finnie, also spoke in this debate, and you can view his contribution here.
Kezia Dugdale: Drugs policy is very much on my mind at the moment, not least because I am halfway through season 3 of "Breaking Bad", which I am sure that many members are currently enjoying.
I come to the debate also wearing the hat of the co-convener of the cross-party group on drugs and alcohol. I see that the other co-convener, John Finnie, is also in the chamber. I hope that he will contribute to the debate. The next meeting of the cross-party group is about legal highs, so if members find that they are stimulated by this debate, they can come along and continue the debate there. We are crying out for members, and the group's future relies on MSPs engaging in the issues. I worry, sometimes, that we do not talk enough about drug and alcohol policy.
I was struck by what Graeme Dey said about the number of head shops in Arbroath. The problems he has with prevalence of the shops in Arbroath strikes me as being similar to the arguments that we have around payday loan shops, in relation to the degree to which we can control the types of retail premises that open up on our high streets and what planning and licensing powers we have to allow us to curtail the types of shops that we do not like. I think that there is probably a wider conversation to be had about the role of planning and licensing in addressing some of the problems that we face in relation to town centre regeneration.
However, I say to Graeme Dey that evidence from the Scottish Drugs Forum suggests that the vast majority of legal highs are bought online. Head shops tend to be where people buy their first legal high, but once they have tried it once or twice, they buy online because, to be quite frank, that is where the better deals are. SDF also tells us that buying online encourages bulk purchasing, which brings into play a problem that has not been talked about today, which is the degree to which online purchasing leads to people who take legal highs becoming dealers themselves. They buy in bulk and sell what they have bought to their mates, with a 20 per cent levy, which means that they can consume what they want to consume for free, because they have profited from their friends. We need to understand the degree to which online sales promote that culture, and we need to understand how we will address that as part of our criminal justice response and the public health response that we need to develop.
I was really pleased to hear Roseanna Cunningham mention the know the score campaign and the further advertising that is in the pipeline. Has she considered doing more social-media targeted advertising? What do I mean by that? It is great that we have had a really good know the score website for a long time, but it relies on people going to it for the information that they are looking for.
Technological advances mean that we can now put adverts in front of people who visit certain websites. The technology exists that allows us to know who has visited legal high websites and, when they next log into their Facebook, Twitter or other social network account, to put in front of them adverts that warn them against using legal highs, or which at least give them the information that they need to take the drugs safely. I encourage the minister to look at the degree to which her social advertising budget is being targeted at people who we know are consuming legal highs regularly.
Who are those people? We know from the SDF that they are a varied group. Some of them would not consider taking illegal drugs but, broadly, the people who take legal highs are ambivalent about the substances' status in society—they will take the legal highs regardless of that. The people are also ambivalent about what they are taking.
The SDF tells us that many people who take legal highs do so regularly and never face any problems in taking them. I mention that because it is important to remember that a lot of people are consuming legal highs without appreciating some of the side effects that we are talking about. In a sense, the market regulates itself. If a product is bad, people stop taking it and it works itself out of the market. The SDF was keen for those points to be made in the debate.
Throughout the debate, I have heard many people say that we should not use the term "legal highs", because that suggests that the substances are safe. However, there are plenty of legal things that are not safe, including alcohol and tobacco. That is not a petulant point; we need to be careful about the language that we use in the drugs debate. If we as policy makers and legislators do not talk the language of the people who use the drugs, we will be even further removed from them when we consider the public policy solutions. I am comfortable with the term "legal high", because that is what the people on the streets, in nightclubs and at home—wherever they use legal highs—call them.
That brings me on to how we monitor use of legal highs. As much as local responses are critical to addressing the issue appropriately, I encourage the minister to consider that we need consistency from one alcohol and drug partnership to the next, so that we have a national picture that we can rely on.
In my final minute, I will put an idea to the minister. Previously, when people took pills—legal or otherwise—in Edinburgh, they used to be able to hand in one of those pills to Crew 2000 on Cockburn Street, which would pass it to the police. The police would pass it to the Scottish Police Services Authority, which would test it. A poster would then be put in Crew's window to warn people about the drug and let them know what they were taking. That was public health messaging in practice. However, that work is no longer done because of cuts in the Scottish Police Authority.
Is there scope for the minister to consider working with universities? Perhaps universities in the city of Edinburgh could set up a social enterprise to work together with Crew 2000 to allow drugs that are being taken on the streets to be safely handed over to the authorities for assessment. Posters could then be put in Crew's windows, so that young people and others who are consuming legal highs are better informed about what they are taking and can make the choices that they want to make about the drugs that they consume
Posted by keziadugdale
Categories: Uncategorized