Bankruptcy & Debt Advice (Scotland) Bill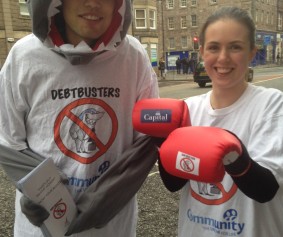 Thursday, December 19th, 2013 @ 9:59AM
On the 18th of December, the Parliament held a Stage 1 debate on the above named Bill. Reluctantly, Labour had to oppose the bill at Stage 1. Below you can you read Kezia's reasons for that decision, much of which echos concerns raised by leading debt relief lawyers. 
Kezia Dugdale (Lothian) (Lab): I draw members' attention to my entry in the register of members' interests, where I have noted that I am a Co-operative Party MSP and a member of Capital Credit Union. That will become relevant in a second.
I have a particular interest in this debate, due to the campaign that I have been leading on payday lending. It is important to recognise the changing nature of personal debt in Scotland and the degree to which it is becoming a bigger and bigger problem.
Payday loan companies have been booming only since 2008 and it was in 2012 that they reached a £2.2 billion share of the UK economy, with 8 million payday loans being issued that year. That poses new challenges for the bankruptcy and debt advice landscape, because people find themselves spiralling into debt at a far faster rate than previously, and the debt is created over smaller amounts of money, as was mentioned in last week's debate. The fact is that £5,000 borrowed from a payday loan company is far more significant than £5,000 borrowed in the form of a personal loan. We need to understand the role that differing interest rates play in that process.
I welcomed the Government's changes to the debt arrangement scheme earlier this year, because I had been campaigning for them alongside the Govan Law Centre. Those changes were important because it used to take three months for people who applied to the debt arrangement scheme to get on it and, during that application period, their debt continued to accrue interest. If they had borrowed from Wonga, their debt would still be subject to a monthly interest rate at horrific annual percentage rates. The step that the minister took to freeze interest rates at the moment that a person applies for a debt arrangement scheme was very important and has made a considerable difference to the lives of people who have that type of debt.
Given that the minister was so willing to listen to campaigners earlier this year, I had high expectations for the bill and I thought that he would come forward with some more progressive ways and means of taking on payday loan companies. I am afraid that I was disappointed to read the detail of the bill and I will go into three aspects of that.
We have already touched on the issues around discharge moving to a 48-month period and I want to try to address some of them. I am afraid that the minister is wrong: there is a distinct difference between an individual voluntary agreement and a statutory bankruptcy process; they are not the same thing. I ask the minister to find a comparable situation in the UK where a bankruptcy measure exists for more than three years. Jenny Marra is right when she says that it is the longest such period anywhere in the UK, yet the minister dances on the head of a pin to deny that.
I am keen to look at who supports the minister's position. The evidence shows that not many significant organisations support him; in fact, a broad range of opposition, from Lloyds Bank to StepChange Debt Charity, opposes his position on the four-year issue. Uniquely, he has managed to get the Consumer Finance Association, Citizens Advice Scotland and Money Advice Scotland on the same page in their opposition. Who would have thought that the trade association for payday loan companies would agree with Citizens Advice Scotland that what the Government is saying is a bad thing?
Fergus Ewing:
 I repeat that 32 of the respondents to the consultation wanted a payment period of five years—longer than we proposed. That is a fact and I will write to Kezia Dugdale to list those 32 respondents.
I am still waiting for an answer to what seems to be a mysterious event. If the Labour members are so strongly opposed to a four-year period of repayment—which seems to be the main reason that, contrary to what they did in committee, they will now oppose the bill—why did they agree to a four-year repayment period for protected trust deeds, which is simply another insolvency procedure?
Kezia Dugdale:
 I will be delighted to answer that point, which I will do in two parts. First, we heard new evidence from StepChange that to move from three to four years could increase the default rate by 15 per cent. Far from getting more money paid back into the system, the mechanism of going from three to four years could lead to more people defaulting and less money going back into the system. That is quite a compelling argument.
The second point is about supporters of the Government's position on the issue. I find myself sitting against my credit union colleagues on the issue, because the Association of British Credit Unions Ltd Scotland supports what the Government is doing. I will address why I think that that is. I am a proud member of a credit union and a critical part of our debtbusters campaign is the promotion of credit unions, but I think that their support for the Government on this issue is led by the fact that, very often, they are at the end of the queue in the debtor process. They do not have preferred creditor status, so they are at the end of the queue when people pay back their debts. Further to that, they charge much lower interest rates, so they need people to pay back over a longer period to recoup the cost of lending. In that sense, it is no real surprise that credit unions support the Government's position.
The other issue that I raise in regard to that is that credit unions constitute only 0.5 per cent of all debts held in bankruptcy. Although I support credit unions and I understand the minister's point, he is making a change to the system that does not reflect 99.5 per cent of the debtors estate. He shakes his head, but I would like to hear why that is not the case and I am happy to take an intervention on that point.
Fergus Ewing rose—
The Presiding Officer: You may well be; but, minister, Ms Dugdale has 30 seconds to end.
Kezia Dugdale: 
Perhaps the minister can come back to that in his closing speech.
I will make a small point about the MAP cap—the minimum asset process cap. Currently 100 per cent of people can access the MAP. There is no cap at the moment, but the minister is introducing a cap that will mean that 75 per cent of people can access that process. An example of somebody who would fall out of it is somebody who becomes ill, has their house repossessed, and finds themselves in a position in which they are on benefits, have no assets but might have mortgage arrears. That type of person will be excluded by what the minister proposes. An insolvency practitioner gave me that case study and I would be delighted to write to the minister about it.
There is a lot more to say about financial education, but my time has run out. There is a multitude of reasons why I cannot support the minister today.
Posted by keziadugdale
Categories: Key Issues Section