Cycling on Easter Road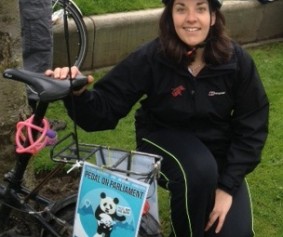 Monday, December 16th, 2013 @ 5:57PM
Regular readers will remember a debate on Strict Liability hosted by Alison Johnstone in the Scottish Parliament a few weeks back. I spoke in the debate and highlighted my own experience of cycling as well as talking about some of the wider safety and infrastructure issues.
I had to leave the chamber before the Minister summed up because I was hosting Universities Scotland's annual reception in the Parliament that evening. The next morning I read over the official report and was surprised by the Minister's response to my speech. I had also received a few emails from constituents equally surprised by the Minister's response. A couple of those emails noted that they were regular cyclists but still found Easter Road a bit hairy. One pointed me to the Crash Map website mentioned in the exchange below.
I mention all this because I followed the debate up by letter and received a reply from the Minister today. Rather than comment on how the letter left me feeling - I'll leave you to make up your own mind.
And if you want to tell the Minister what you think, his Twitter handle is @keithbrownmsp
First here's the text of the letter I sent on the 11th November:
Dear Keith, 
I am writing to you in regards to the comments you made during Alison Johnstone's debate on Strict Liability at a meeting of the Parliament on 29th October 2013.
I am sorry that I was unable to stay for your closing speech. I was hosting the Universities' Scotland reception that night and gave my apologies to the Presiding Officer. I did however take the time to read the remainder of the debate - including your contribution. 
During this debate I pointed to my own experiences of cycling in Edinburgh and how I felt I was one of the people the Scottish Government had to persuade that cycling is a safe activity. I pointed out that for me to cycle to work it would involve having to go up Easter Road during the morning rush hour and at the moment I do not feel I have the confidence to do so with such heavy traffic on such a narrow road.
I was disappointed in your response when you stated that there was an official from Transport Scotland in attendance who cycles Easter Road regularly and felt the road was safe enough. Does the fact that one person feels comfortable enough to use a road make it applicable to all and that less confident cyclists should just get on with it?
To develop and encourage more sustainable travel and encourage more people to use their bicycles on the road, we need more people who haven't cycled before to do so. I'm very disappointed that the Scottish Government's message to them is that if someone else is confident and comfortable on a certain road, you should be too.
After your comments, I visited crashmap.co.uk – a valuable website that records any road traffic crashes in neighbourhoods across the Country. When I searched Easter Road and filtered it to only include road traffic incidents involving cyclists in the last three years the result showed that there had been 19 incidents. The results are reliable as the site only uses official data from incidents reported to the police.
I feel these results show that Easter Road is a dangerous place for cyclists and for a Government Minister to effectively wave off another cyclist's concerns because someone else says it is okay does not send a positive message to the cycling community. A community who are tirelessly working to encourage more people to use their bike as a mode of primary travel.
I hope you will reconsider your remarks and when discussing cycling matters in the future, you remember that not all cyclists are the same. Some have more confidence and experience on the road than others and when taking decisions regarding investing in cycling infrastructure to make cycling safer and more accessible, the views of these people will be considered seriously.
I look forward to your response.
Kind Regards
Kezia Dugdale MSP
And here's the Minister's response:
Posted by keziadugdale
Categories: Uncategorized