Strict Liability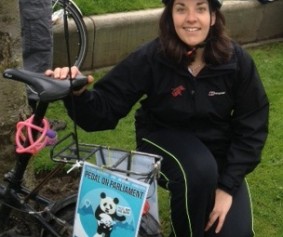 Wednesday, October 30th, 2013 @ 6:43PM
On Tuesday, the Green MSP Alison Johnstone hosted a Members' Debate on "Strict Liability." Kezia spoke in the debate, sharing her experiences of cycling in Edinburgh, and here's what she had to say: 
Kezia Dugdale (Lothian) (Lab): As others have done, I congratulate Alison Johnstone on securing the debate. At the outset, I acknowledge that I do not have the cycling credentials of Alison Johnstone or of my colleague Sarah Boyack. Back in 2007, when I was Sarah Boyack's election agent, it used to infuriate me that she insisted not only on cycling to each engagement, but on doing so without a helmet. She would try to convince me that she was actually safer without a helmet, but I was never convinced. My attitudes to cycling have changed over the years—I will come on to that in a second—but it is important to acknowledge Alison Johnstone's and Sarah Boyack's long-standing interest in cycling as a policy issue.
Margaret Mitchell and Rob Gibson mentioned Copenhagen. While I was exploring that fantastic city earlier this year, I found myself in the middle of a march, but could not work out what it was about because all the signs were in Danish. I followed the march round to the Christiansborg palace, by which point I had worked out—I thought—that the demonstration must have been the Danish equivalent of pedal on Parliament. However, after stopping some people on the march to ask what they were campaigning for, it turned out that all the teachers were locked out and were striking. It happened that they all had bicycles because that is how intrinsic cycling is to daily life in Denmark. That taught me that what we really need in Scotland is a cultural shift, so that cycling becomes something that the majority of people do. However, we are a long way from that point.
Frankly, it is people like me who need to be persuaded that cycling is a safe activity. After this year's pedal on Parliament, I purchased a bike and I now cycle fairly regularly, but I cycle only to two places. One of those is Portobello beach, which I can cycle to from my house entirely off road, thanks to the Restalrig railway path and all the public investment that has gone into off-road cycling paths in Edinburgh. The other is my gym, for which I need to cross only one main road, which I can do by pushing the bike over the street. There is no way I would cycle to work, because that would involve cycling up Easter Road in the morning at peak times; it is just too dangerous. Until I can be persuaded that cycling is safe, or we invest in the infrastructure such that cycling becomes obviously safe for everyone, I do not think that we will meet that challenge.
I pay tribute to all the cycling campaigners who regularly contact MSPs on various issues relating to the cycling agenda. Cycling is probably the single biggest issue in my inbox and is paralleled only by equal marriage in terms of the strength of feeling and regularity of contributions that I receive. People have written to me regularly about active travel for a number of years, but many are now writing about strict liability. However, I get the sense that some people within the cycling community are not utterly convinced that strict liability is the answer; rather, they see a need to speak out about the sense of anger and frustration within the cycling community about the number of accidents and deaths. Too many people find themselves at risk when trying to cycle to their work because our roads just are not safe.
There has also been some legitimate criticism of the Government's plans around the nice way code campaign, on which I would like to hear Keith Brown's comments tonight. There is a sense that some of the things that the nice way code has been encouraging cyclists to do actually put them in greater danger. Unless we get a sense of community among cyclists, drivers and all other users of our highways system, we will not get to the critical point that is necessary to drive cultural change.
I conclude by saying that I am grateful to a couple of my constituents, who are avid cyclists, who have offered me free cycling lessons to try to improve my cycling confidence. I may well take them up on that offer, but I think that, first and foremost, we need to have a serious conversation about what safety on our roads means. I welcome the debate and, once again, I congratulate Alison Johnstone on bringing it to the chamber.
Posted by keziadugdale
Categories: Uncategorized