Developing Scotland's Young Workforce Debate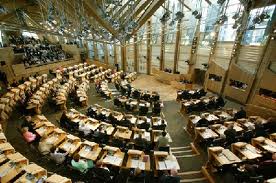 Wednesday, October 9th, 2013 @ 1:56PM
Kezia spoke in the Scottish Government debate this week on the Commission for Developing Scotland's Young Workforce. You can see her speech here and the full debate can be read here.
Kezia Dugdale (Lothian) (Lab)
: Like other members, I thank Ian Wood for his extremely positive report, which has received a broad welcome across the chamber.
I very much appreciated having the opportunity to contribute to the report. I and Johann Lamont sat down with Ian Wood and his team for a good hour—poor guy. I am particularly pleased that so much of what Johann Lamont and I had to say has been replicated in the report.
Although the motion does not refer to them, there are significant sections in the report on the modern apprenticeship programme, to which George Adam and Margaret McCulloch referred. It is good to see much of what the Labour Party has articulated on the modern apprenticeships agenda over the past 18 months replicated in those sections.
We kept saying that the Government would have to do more than just obsess about the figure of 25,000 modern apprenticeships. The Government is obsessed with the numbers and is not so concerned about what the numbers look like and where they come from. The Government is willing to encourage people who are already in work to take up modern apprenticeships, and it has a high proportion of level 2 modern apprenticeships, which take only a short time to study.
Clare Adamson: Will the member take an intervention?
Kezia Dugdale
: I am sorry, but I want to make a wee bit more progress. I will let Ms Adamson in in a wee bit.
I was particularly amused by a paragraph on page 13 of the report. The cabinet secretary, Mike Russell, was keen to have line-by-line references, so I will read out some of that paragraph:
"Now that it has been established that a higher number of employed apprenticeships can be sustained, Modern Apprenticeships in Scotland are at an important stage in their development. Alignment with the opportunities of economic growth, the creation of progression routes, quality improvement and increasing the number of employers offering Modern Apprenticeships are all key elements to their further development."
That suggests to me that those factors were completely irrelevant until now and that it was only the 25,000 figure that the Government was interested in delivering.
The report goes on to make three recommendations on modern apprenticeships, which I will go through in turn. The first is to match modern apprenticeships more with the skills needs of the economy. The report states that in that regard there has been
"only limited … focus on the key sectors identified within the Government Economic Strategy."
The report goes on to say that the modern apprenticeships programme should
"more actively target … economic growth".
The second of the recommendations on modern apprenticeships is that they should focus on level 3 courses and above. The report states:
"In future there should be more focus on Modern Apprenticeships at level 3 and above, with more higher level frameworks being encouraged in line with the move toward … higher skills across the economy."
I have said to Angela Constance many times that 11,000 of the 25,000 modern apprenticeships that she was delivering were for level 2 courses, so I am pleased to see the Scottish Government recognising now that more level 3 courses are required.
The final recommendation on modern apprenticeships is on their status.
Angela Constance: The Government takes very seriously, for a host of reasons, the Wood commission's recommendations. Will Ms Dugdale acknowledge the importance to the apprenticeship programme of employed status and the fact that it is employer led, and that we now need to work out how we retain the employer-led element and meet the needs of the growing economy? For clarity, I hope that Ms Dugdale is not suggesting that we remove support from all 16 to 24-year-olds. In the current framework every 16 to 24-year-old gets support and a contribution from the Government.
Kezia Dugdale
: That is a far cry from what I am saying. The third recommendation on modern apprenticeships tells the minister that she needs to look at valuing the status of modern apprenticeships differently. That is the point that I am making, because 11,000 of the modern apprenticeships take only six months to complete. If we stopped somebody in the street and asked them what they think a modern apprenticeship is, they would probably say that they view it as a three or four-year commitment to a course. That is something that the Wood report recognises.
To return to the issue of economic growth, I was pleased to hear so many members comment on the need to address STEM subjects. Angela Constance said that she was particularly interested in that, and Clare Adamson referred to it a great deal in her speech. However, the Government's record in that area is not particularly good. In 2008-09, there were 43,000 FE awards in STEM subjects, but the figure for last year was 30,000, which is a fall of 13,000.
It is even more interesting to look at the gender breakdown for those courses. That shows that 97 per cent of engineering modern apprenticeship frameworks were undertaken by men, so there is a huge mountain to climb if we are going to achieve greater parity in that. We can compare that with health and social care modern apprenticeships, of which only 15.6 per cent were undertaken by men. There is a huge disparity in the figures that clearly needs to be addressed.
I am pleased to see that the Wood report recommends a ring fence around STEM subject modern apprenticeships.
Dennis Robertson: Will the member give way?
Kezia Dugdale
: I am sorry, but I need to continue on this point.
On the ring fencing, I wonder whether the Government would consider going further and having a gender quota for its modern apprenticeships STEM framework. If the Government is going to commit to, say, 500 modern apprenticeships in the STEM framework, could 250 of those be for women? Will the minister be so bold as to say that the Government will take on the gender segregation in the STEM subjects and tackle it head on with a serious quota? That is a positive suggestion from the Labour benches.
Liz Smith stated that there was a disparity in the report around what it would cost to make the recommended changes. I felt that she was unfairly attacked by the cabinet secretary on that, because both the Labour Party and the Tories have pointed out in their amendments the resource implications.
There are three sections of the report that point to significant additional expenditure. One is about having senior staff in schools who will concentrate on the vocational education role. The report also mentions additional facilities to provide vocational education in schools that do not currently have those facilities, and it states that there will be costs in the transition phase. I guess that the difference might just be in how we define "significant", but those are legitimate questions and the Government needs to address them.
Finally, on statistics, I am afraid that my jaw dropped when I heard Angela Constance attack my colleague Jenny Marra for using statistics in her speech, because they are the statistics that she used time and time again in the chamber when unemployment was falling. Now that it is rising, she says that they are unreliable. I strongly encourage her to have a word with her colleague John Swinney, who used exactly the same quarterly statistics to mark a record fall in unemployment. There are a number of different ways in which we can cut the statistics, but I say to Angela Constance clearly that, if the stats are good enough for John Swinney, they are certainly good enough for Jenny Marra.
Clare Adamson: Will the member take an intervention?
The Deputy Presiding Officer: The member is in her last minute.
Kezia Dugdale
: I am afraid that I am in my last 20 seconds. I apologise to Ms Adamson that I did not manage to let her intervene today, because she was kind enough to let me in during her speech.
I finish where I started. The commission's interim report is excellent and it is full of good recommendations. We will continue to support its contents. We have put forward some positive suggestions today, and I hope that the Government is listening. Members on the Labour benches look forward to debating these issues again.
Posted by keziadugdale
Categories: Latest News