Legal Loan Sharks are Let Off the Hook Too Easily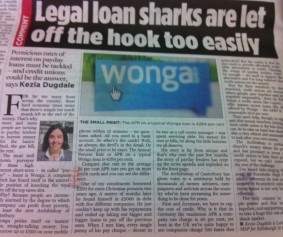 Wednesday, July 31st, 2013 @ 11:33AM
This article was originally for the Saturday 29th June edition of the Edinburgh Evening News.
For far too many Scots across the country, these hard economic times mean that there's simply too much month left at the end of the money.
That's why more and more people are turning to payday lenders to borrow money for the basics: food, the gas bill, the rent.
The most well known purveyor of these high interest short-term – so called "payday" – loans is Wonga. A company which has found itself in the unenviable position of knocking the royal baby off the top news slot.
Why? Because people are increasingly alarmed by the degree to which a company can profit from poverty, 
not least the new Archibishop of 
Canterbury.
Wonga prides itself on instant access, straight-talking money. You can borrow up to £500 on your mobile phone within 15 minutes – no questions asked. All you need is a bank account. So where's the catch? Well, as always, the devil's in the detail. Or the small print to be exact. The Annual Percent Rate or APR on a typical Wonga loan is 4284 per cent.
Compare that rate to the average 29 per cent APR rate you get on most credit cards and you can see the difference.
One of my constituents borrowed £200 for extra Christmas presents two years ago. A matter of months later he found himself in £5000 in debt with five different companies. He just couldn't keep up with his repayments and ended up taking out bigger and bigger loans to pay off the previous ones. When I met him, every single penny of his pay cheque – decent in its size as a call centre manager – was spent servicing debt. No money for rent or bills, let along the little luxuries we all deserve.
His story is far from unique and that's why over the past few months the story of payday lenders has crept up the news agenda and exploded on to the front page.
The Archibishop of Canterbury has given voice to a sentiment held by thousands of money advisers, campaigners and activists across the country who've been screaming for something to be done for years.
First and foremost, we have to cap the cost of credit. Why is it that in Germany the maximum APR a company can charge is 40 per cent, yet here in the UK we're quite happy to see companies charge 100 times that unchecked? But the reality is that we also need to provide affordable accessible alternatives to credit. Clipping the wings of payday lenders won't be enough – we need to support the alternative and I've long believed that credit unions are the answer.
Run for their members by their members, credit unions are mutuals where people save together and lend together responsibly. Here in Edinburgh a credit union like Capital can offer instant access loans like those offered by Wonga – the APR? A very reasonable 26.8 per cent.
They need help, though, to expand, and that means members. Joining your local credit union is the best thing you can do to take on legal loan sharks. It's also a very ethical and sustainable way to look after your own money.
The Archbishop is putting the church's money where his pulpit is and has promised to invest cash in credit unions to help them grow and expand, but we can't underestimate the size of the challenge.
I've heard kids singing the Wonga song on Portobello High Street and adults reference its cute puppet pensioners in Bruntsfield cafes. Its advertising spend is not only huge but very effective.
The only counter to that is people power and that means uniting together, and supporting credit unions to take a huge bite out of the legal loan shark market.
Original article available here - http://www.edinburghnews.scotsman.com/news/opinion/kezia-dugdale-legal-loan-sharks-are-let-off-the-hook-too-easily-1-3019809
Posted by keziadugdale
Categories: Education