Visiting the Edinburgh Trams Project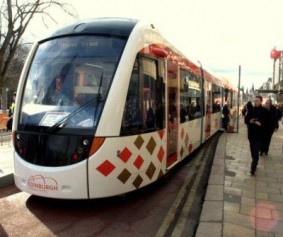 Thursday, July 25th, 2013 @ 2:13PM
I have been a long standing supporter of the trams project. In fact, I was one of the very few people who not only voted for the congestion charge but actively campaigned for it back in 2005.
It is well known that the the delivery of the tram project has been beleaguered with problems, both to do with the budget and timescale originally anticipated. My first ever First Minister's Question back in June 2011 was to call for a public inquiry in to the trams project - something which Alex Salmond is on the record agreeing to.
Since that time, and the change of administration at Edinburgh City Council, it is the settled will that such a public inquiry should wait until after the completion of the trams project.
Despite at moments thinking the day would never come, I was delighted to accept an invite to board the 15:56 to Edinburgh Airport earlier this week. The tram is operational between Gogarburn and Edinburgh Airport at the moment and it is possible that the whole track all the way to York Place could be complete and open to public by the turn of the new year.
What can I tell you?
Firstly, it was a very enjoyable experience, the trams are very spacious and comfortable. Each 5 cabin tram can hold up 250 passengers and have ample luggage space. Because the vast majority of the trams mechanics are housed in the roof, there is street level access making the trams very accessible for prams and wheel chair users. A question remains over what do with bicycles though.
I had the pleasure of meeting a few of the new drivers, and they are all highly trained. The driver's cabin of each train has a glass frontage so passengers are able to see the track ahead.
When the tram gets to the airport, it is within 130 yards of the terminal building - all of which will be under a canopy. I was slightly anxious by the narrow nature of the platform at the station, as I was worried that a large number of passengers coming of flights with lots of baggage could make it very awkward. However, I was assured that by the nature of the time tabling, there will always be one tram sat at the airport so people will be able to board straight away rather than have to gather on platforms waiting.
So here's hoping the next time I board the tram it will be as a paying customer.
Any other questions - feel free to get in touch?
Posted by keziadugdale
Categories: Uncategorized