Community Garden Visit at Local Hospital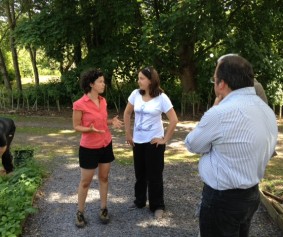 Thursday, July 25th, 2013 @ 4:12PM
Earlier this month, I took the opportunity to visit the community garden based in the grounds of Edinburgh's Royal Edinburgh Hospital. The garden is wonderful facility for patients, local residents and school children alike and will be forced to relocate due to NHS Lothian's plans to redevelop the whole hospital site. An issue recently covered in the Evening News (http://www.edinburghnews.scotsman.com/news/morningside-gardens-to-be-bulldozed-for-hospital-1-3001362)
During this visit I was able to bring together garden volunteers, support staff, management from the Cyrennians who run the project and senior management from NHS Lothian to discuss the impact of these changes and what can be done to mitigate the effects.
There is no doubt that the garden will have to move and that the NHS board are committed to ensuring it has a place in the new site, but so many questions remain unanswered. Will it be of similar size with the same degree of privacy and tranquility? How will all the established plants and bushes be moved carefully and who will bear the cost? Will workers and volunteers be involved in planning the new site?
Relationships are very positive and I am sure they will continue to be so over the coming months ahead, but we will have to work very hard to make sure that we not only protect the amazing work done so far but to secure and bright future for the community garden project as a whole.
Posted by keziadugdale
Categories: Uncategorized