Can you help disadvantaged women Dress for Success?
Friday, May 25th, 2012 @ 10:30AM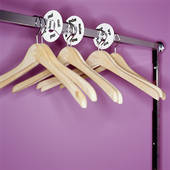 The mission of Dress for Success is to promote the economic independence of disadvantaged women by providing professional attire, a network of support and the career development tools to help women thrive in work and in life.
It's roots date back to New York and the 1970s but it has arrived here in Scotland very recently. Operating as a Social enterprise in the Strathclyde area, they are entirely run by volunteers.
They'll hopefully be able to branch out in to Edinburgh soon, but they'd need help from someone like you to do so. In the meantime, you can donate clothes to their cause by getting in touch. Why not appeal to your friends for donations and make it really worthwhile for them to make the journey through from Glasgow.
As well as donations of suitable work attire, they are also very keen to hear from anyone willing to give up some of their time and energies to help build them a website for the work in Scotland. Again, if you're in a position to help, get in touch.
Posted by keziadugdale
Categories: Uncategorized