Affordable Childcare Debate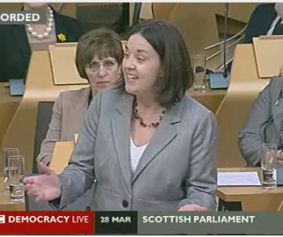 Friday, September 23rd, 2011 @ 10:45AM
Yesterday, the Scottish Parliament debated affordable childcare following a report titled "Making Work Pay - The Childcare Trap" from Save the Children and a motion in the name of Jamie Hepburn.  My contribution to the debate is below:
I hope you do not mind, Presiding Officer, but I had to bring the baby into the chamber with me because I could not find a babysitter. On that note, Save the Children says that Jamie Hepburn is on the night shift, so I will need to see him afterwards to pass the baby back to him.
I congratulate Jamie Hepburn on securing the debate and on his excellent speech. I acknowledge the work that Save the Children has done in providing briefings for all of us, and I know that much of the evidence and the facts that they have provided us with will come up in members' speeches.
I want to talk briefly about the living wage and, if I can find the time, college provision.  Jamie Hepburn's motion says that supporting the poorest parents into work is the best way to tackle child poverty. I agree, but I also think that that work must be quality work. To my mind, what is needed are good jobs that provide a greater degree of security and which pay a decent living wage. I know that the Scottish National Party and Labour agree on that, as their support for the campaign for a living wage shows.
I welcome the commitment that the Scottish Government announced yesterday to uprate the current living wage to £7.20 an hour. The minister will be aware that I revealed that 1,000 Scottish Government employees were entitled to the living wage but were not getting it. I am pleased to say that the wages of a number of those employees are now being uprated, and are being backdated, but there are still some areas in which that process is not quite complete.
The minister might also be aware that, last week, the campaign for a living wage revealed that across Scotland 16,000 employees who are employed directly by local authorities receive less than £7.20 an hour. I appreciate that the Scottish Government cannot demand that they be paid at least the living wage, but it has a political role to play in demonstrating leadership and the capacity of the living wage to help people work their way out of poverty. I certainly feel that if the Scottish Government and the local authorities demanded that all their employees be paid the living wage and built that into tendering contracts, we would drive a cultural change in the private sector that would benefit people right across Scotland.The Government has a leadership role to play in that regard.
On working conditions, there is an issue with temporary posts, zero-hour contracts and poor pay and conditions, which make getting and retaining a job extremely difficult. For some families, the thought that a temporary post might put them back on the job market in a few months' time means that they will not bother going for such a job, because they will lose their jobseekers allowance and will have to wait six weeks to get that money back in their pockets. Frankly, that is just too big a risk. Therefore, we need to ensure that the jobs on offer are quality jobs.
In the time that is left, I want to talk about college provision. I recently visited Jewel and Esk College in Edinburgh Eastern, which is an excellent college that does tremendous work. I was very interested to hear what it had to say about childcare support and the allocations for that to further education colleges. Until I visited the college, I did not realise that the allocations are based on historical uptake. In other words, the money that colleges get is based on the number of students that they used to have who had children to look after. That means that we always address the situation in the past but never drive cultural change for the future. If we want to get into colleges more students who care for children, we need to be more up front about the type of provision that we can offer them.
It is important to recognise that colleges deal with the situation in different ways. Jewel and Esk College provides childcare support directly to the student, while Stevenson College and Telford College pay the money to the provider. Such inconsistency across the sector does not help people who might be considering going to college for the first time. It would be great if the Government could think about running a serious advertising campaign to attract parents back into education, thereby recognising the power of education to lift people out of poverty as much as the power of work to improve their life chances.
I congratulate Jamie Hepburn on an excellent motion and an excellent speech. I hope that on many of the issues that we have talked about we can go forward together as a united Parliament.
Posted by keziadugdale
Categories: Equality Issues, Key Issues Section, Social Inclusion