Will Young on Question Time…
Thursday, February 5th, 2009 @ 5:57PM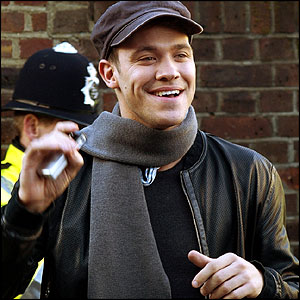 Great anticipation in my house tonight for Will Young's debut on Question Time. He's on the panel with Geoff Hoon, Shami Chakrabati, Nigel Farage and Theresa May.
Working on the basis of the usual format, I'd expect Geoff Hoon to be next to David Dimbleby and Will Young to the left of Geoff Hoon. In more ways than one!
I tried to the words "will young politics" earlier today and the top search result was an article called "Will young voters deliver for Obama?"
- Well I think we all know the answer to that one.
Anyway, Will Young has a Politics degree from Exeter. He has also presented a documentary on teenage homelessness, supports Women's Aid and Mencap. Is an Ambassador for the Princes Trust and promoted the Oxfam Unwrapped campaign.
Got to be Labour, surely?
Posted by keziadugdale
Categories: Labour